Are you planning to throw a Christmas party for your kid this year? But can't decide how to make it entertained! Well, you can organize a puppet show. It's an ideal way to beat the boredom of your kid. This show not only entertains the children, but the adults can also enjoy the charming presence of puppets.

However, there are several reasons why you are advised to arrange this show for your Christmas party. And that's the topic this article has discussed in detail. So, before you proceed, take a look at the following passage!
Reasons to Arrange a Puppet Show in Your Christmas Party
Listed below are some wonderful reasons why you should organize a puppet show.

Stimulate Your Child's Imagination
You can encourage your kid's imagination and creativity by organizing a puppet show. The children involve their dolls in the fairy tales they hear from their parents. And with puppets, their play will become more personalized. As a parent, you can ask your child to recreate these stories using puppets. It reinforces what they have gained from the stories.

Kids Love Puppets
Your little one is an integral part of your Christmas party, right? Well, you can bring a smile on his/her face with a mesmerizing puppet show. The cute puppets will make your special occasion more enjoyable.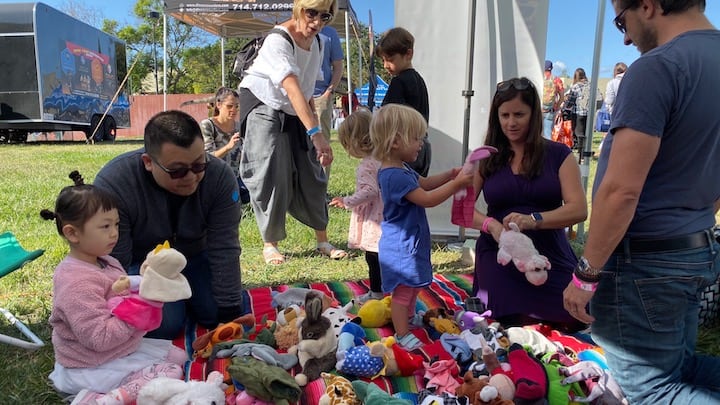 Boost Your Kid's Confidence in Speaking and Reading

Does your kid feel shy while speaking and reading in front of you? If so, you must think about a puppet show for your Christmas party. The children feel comfortable to do it in front of their puppets. They concoct stories, and their language skill will improve. It allows you, child, to construct sentences.

Great Stress Buster

Children love lively puppets. And the adults are not an exception. However, the funny word lines uttered by the puppeteers work as an excellent stress buster. Moreover, a puppet show is a great source of entertainment. Therefore, if you want to mitigate your work pressure and make your child happy, you must arrange a puppet show.
Develop Your Child's Emotion
The kids sometimes become shy to express themselves. Well, a puppet can be a great companion for your little one. With its association, your kid can share his/ her feeling with no discomfort. So, why not make your Christmas party a medium to organize this excellent show.
Excellent Medium to Teach Life Skills
A puppet show is an excellent medium to teach life skills and concepts. In this show, the puppeteer enacts the scene using hand puppets while narrating a story. At this moment, you should observe how your child is listening and watching. It's because you can use this trick to teach your little one values and morals.
These are the reasons why you should organize a puppet show at your Christmas party.
Contact a Puppeteer
Make contact Ricky Roo & Friends Puppet Shows. They have a team of experienced puppet masters. They can make your Christmas party fully entertained. Click on rickyrooandfriends.com to book a puppet show.